How To Read Your Water Meter
The Auburn Water District encourages you to monitor your water use by regularly reading your water meter. Your meter is typically located in the basement on the side of the house closest to the street but could be in a utility closet.
The register located on the meter face records the number of cubic feet that have passed through the meter. The meter dial is similar to the odometer in your car and reads the water consumption and displays the cumulative total of the water that has flowed through that meter since it was installed. As the water flows through the meter, internal mechanisms turn to register usage by the cubic foot. Much like an automobile or other mechanical device, the meter wears down with time and can eventually stop registering flow completely. The meter cannot spin faster than the water going through the meter.
The District is in the process of updating the meter inventory and as a result, there are two types of meter registers in the system.
Below is the ProCoder Register now being installed in the District.
In the example below, the reading is 2,852.52 cubic feet.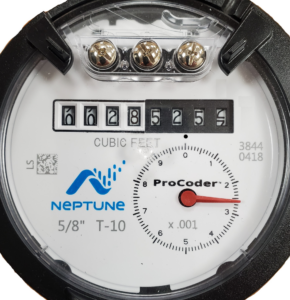 Below is the older T-10 Register previously installed in the District. In the example below, the reading is 38,785.64 cubic feet. The red triangle on the meter face is a low flow indicator and spins anytime water is passing through the meter.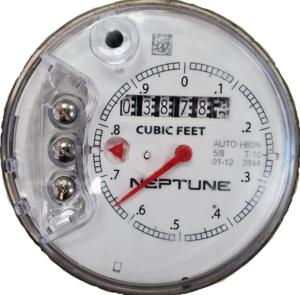 You should record your meter reading at regular intervals (weekly or monthly), especially if you have an automated sprinkler system. Subtract the new meter reading from the previous reading to calculate your water consumption for the interval of days between readings. The MaDEP regulations state, averaged over a one year period, individuals should use no more than 65 gallons per day.
Any questions, please feel free to contact the Water District at 508-832-5336.